Embarking on the journey of bringing your small businesses into the digital realm through the creation of a website is a commendable and strategic move through website design companies. Joining the ranks of visionary entrepreneurs who recognize the immense potential of an online presence is a step towards growth and success.
As you stand at this crucial crossroads, one of the first decisions you'll need to make is whether to undertake the website development on your own or enlist the expertise of professionals. Website development is indeed a multifaceted endeavor that demands time, effort, and resources. The choice between handling it in-house or seeking external help depends on several factors.
If you have the financial means, the luxury of time, and access to a proficient team with the necessary skills, taking on the project internally might be a viable option. This route allows for maximum control and customization while potentially saving on development costs.
However, for many small businesses, partnering with a web development agency is often the wiser choice.
---
The Top 10 Website Design Companies to Elevate Your Small Businesses:
---
The Best 10 Website Design Companies for Small Businesses
If you're in the market for a professional service provider to construct your website, explore the following list to aid in your decision-making process.
Best for a collaborative, fast-forward approach
Presence Crown, their recipe for crafting high-converting websites is a blend of innovative design, tailored to suit user personas, and cutting-edge SEO technologies.
But it doesn't stop there. Presence Crown embraces the design sprint method, living up to its name by delivering polished websites within just one week. This approach involves rapid prototyping and rigorous testing, allowing them to quickly identify what works and what doesn't. They then fine-tune the prototype, conduct further tests, and only launch the website when it boasts outstanding functionality and an irresistible design.
With their commitment to staying at the forefront of web development, it's no wonder Presence Crown is a leader in the industry, consistently delivering remarkable results for their clients.
---
Best for cost-effective, self-managing websites
Elite Web Design Studio, has been at the forefront of website development for over two decades. What sets them apart is their dedication to creating websites on a robust Content Management System (CMS), a practice that not only expedites deployment but also ensures the flexibility necessary for a website to evolve seamlessly as your company grows.
Their comprehensive suite of web development services covers every aspect of the digital journey. From wireframe and prototyping to crafting a distinct digital identity through logo and message branding, Elite Web Design Studio is a one-stop solution for all your web needs.
Elite Web Design Studio commitment to speed and efficiency is evident in their rapid development process, which ensures that your website goes from concept to reality in record time. They also offer easy-to-install CMS solutions, simplifying content management for your team.
For those seeking enhanced visibility and performance, Elite Web Design Studio provides SEO services to boost your online presence. And they don't just stop at launch—Blue Archer includes Google Analytics in their Silver and Gold plans, allowing you to measure and evaluate your website's performance over time.
Security is paramount, and Elite Web Design Studio ensures peace of mind through secure virtual web hosting. Their support and maintenance services are second to none, including free CMS training to empower your team. Plus, they offer maintenance support packages for those who regularly update their web content, covering tasks such as image optimization and checking for broken links.
---
Best for SEO focus and responsive design
Design Website 4 U specializes in crafting bespoke websites that prioritize SEO-friendliness and adapt seamlessly to various screen sizes, providing an optimal user experience. Our dedicated website development team comprises highly skilled specialists who consistently update their certifications to stay at the forefront of industry standards.
As a cornerstone of our web development approach, we rely on the WordPress Content Management System (CMS) for the majority of content-driven sites. This choice empowers us to create websites that are not only visually engaging but also easily manageable, ensuring that your online presence remains dynamic and up-to-date.
With Design Website 4 U as your partner, you can count on a comprehensive and seamless web development experience, ensuring your online presence evolves with your company's growth while delivering optimal performance and user satisfaction.
---
Best for personalization
DotLogics has perfected a winning formula for instilling confidence in your customers. We do this by crafting customer-centric content and captivating, action-provoking design elements, all carefully tailored to align seamlessly with your growth objectives. Their comprehensive approach encompasses a range of services designed to elevate your online presence:
Their team at DotLogics doesn't stop there. We kick off our partnership with a thorough discovery session, diving deep into your small businesses to understand your history, current marketing strategies, business objectives, and brand guidelines with Website Design Companies. If you already have a website, we meticulously analyze customer segmentation and visitor analytics. To refine your target personas and value proposition.
As a New York-based firm, we bring a wealth of experience to the table. Their services extend to competitor analysis, user experience (UX) and user interface (UI) enhancements. As well as captivating visual design and photography. Our goal is to transform your website into a conversion powerhouse. Leaving a lasting impact on your audience and driving tangible results for your business. Trust DotLogics to be your partner in achieving digital excellence.
---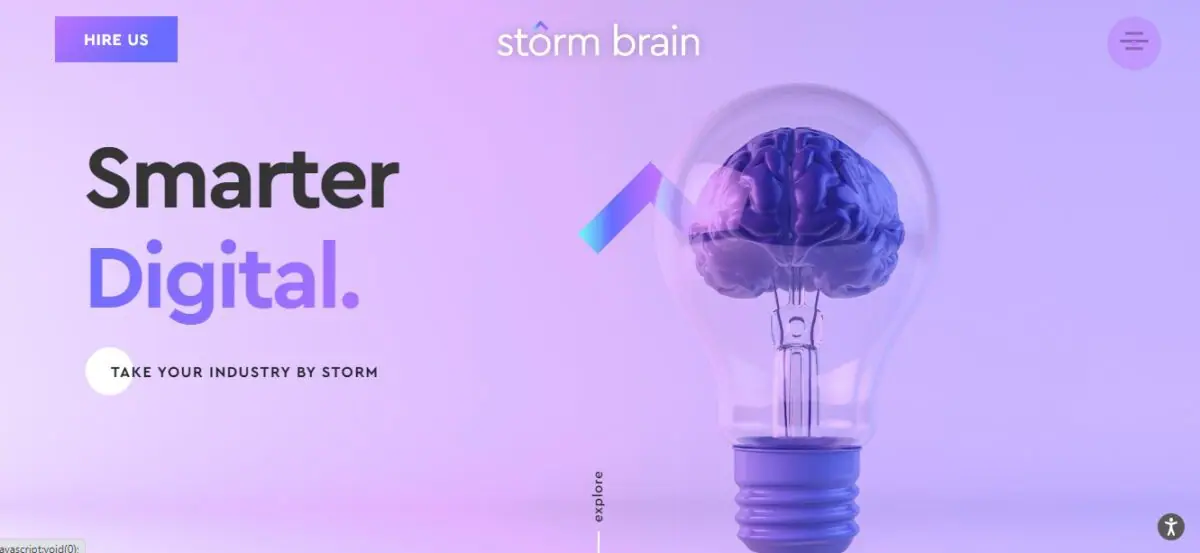 Best for online merchants with accessibility (ADA) needs
At Storm Brain, we empower our clients to make a powerful impact in their industries. By leveraging the insights gained from meticulous market research and competitor analysis. This data-driven approach forms the bedrock of our ideation process. Allowing us to propose a design that not only aligns with your vision but also captures the essence of your brand. The end result is a stunningly interactive and SEO-friendly website that truly engages and captivates your customers, keeping them hooked.
Our comprehensive suite of web development services, offered by this San Diego-based internet marketing company. It is designed to address every facet of your online presence:
Mobile Responsive Design: We ensure that your website looks and functions flawlessly on all devices. Catering to the diverse preferences of your audience.
eCommerce Web Design: Whether you're launching an online store or enhancing an existing one. Our eCommerce solutions are tailored to drive sales and conversions.
ADA Compliance: We prioritize accessibility, ensuring that your website is compliant. With the Americans with Disabilities Act (ADA) to provide an inclusive experience for all users.
User Experience Design: Our focus on UX design guarantees that your website not only looks great but also delivers an intuitive and delightful user experience.
Managed Website Hosting: Reliable hosting services that keep your site running smoothly and securely, with minimal downtime.
Maintenance: We offer ongoing support to keep your website up-to-date, secure, and optimized for peak performance.
From crafting a compelling brand strategy to creating visually striking designs and diving deep into analytics. Storm Brain's talented team is fully equipped to meet your digital needs. Let us be your partner on the journey to online success. Helping you navigate the digital landscape and leave a lasting impression on your audience.
---
Best for quick, industry-compliant output
Visualwebz offers a streamlined solution for those seeking a quick online presence. Their promise is simple yet effective: a five-page website, complete with up to 10 external links and email setup, all delivered within a rapid 48-hour timeframe. However, they go beyond the basics, recommending a more comprehensive approach that encompasses content creation. Strategic ad campaigns, and detailed analytic reporting for long-term success.
Operating out of Seattle since 2008, Visualwebz has established itself as a trusted digital agency specializing in WordPress-based websites. What sets them apart is their unwavering commitment to web standards. They ensure that every site they create aligns with the Web Hypertext Application Technology Working Group (WHATWG) standards. This dedication by website design companies ensures that webpages display correctly across various browsers, guaranteeing a consistent and reliable user experience for your small businesses.
Security is paramount to Visualwebz. They employ trusted digital certifications such as DigiCert, Global Sign, or even those issued by your own on-premise private enterprise. This rigorous approach ensures that every browsing session on your website is encrypted and authenticated, safeguarding user data and privacy.
Beyond website development and security, Visualwebz offers a range of creative services. This includes graphic design for both new projects and redesigns, breathing new life into your brand's visual identity. They also excel in video and animation, crafting animated logos, interactive web pages, and captivating 3D promotional videos that set your brand apart.
With Visualwebz, you're not just getting a website; you're getting a comprehensive digital partner dedicated to your online success. Whether you need a quick and effective web presence or a full suite of digital solutions, Visualwebz has the expertise and experience to meet your needs.
---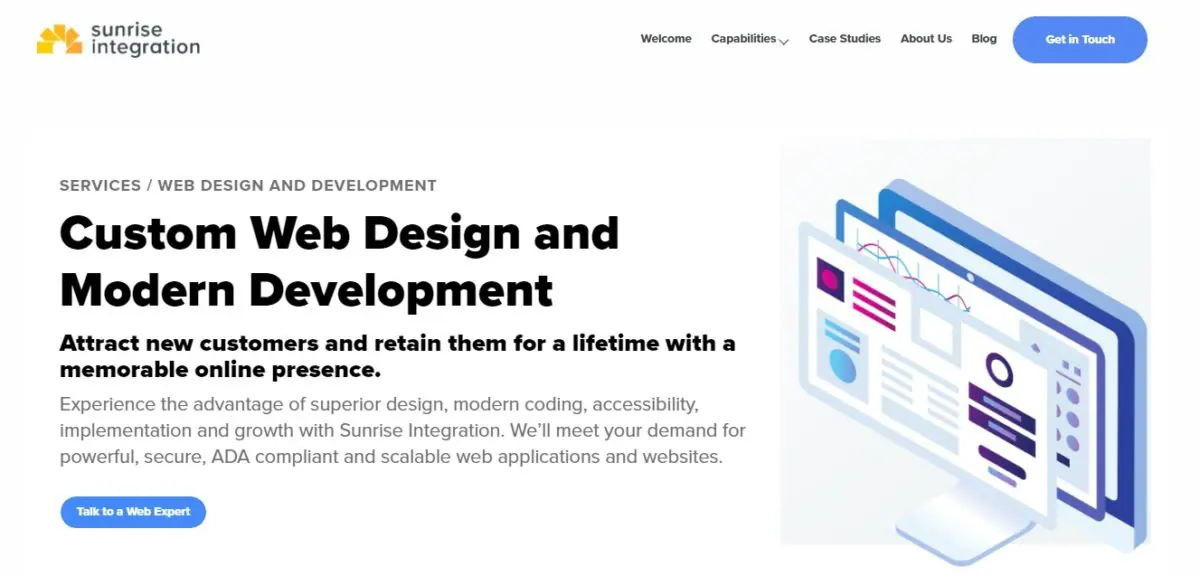 Best for Shopify store owners
Sunrise Integration boasts a seasoned team of brand and UI/UX designers, with a combined experience spanning over 23 years. Dedicated to crafting exceptional portals for both B2B and D2C eCommerce companies across a wide spectrum of industries. Their impressive portfolio includes successful projects in consumer packaged goods, fashion, lifestyle, software, entertainment, and more. Notably, they have been delivering Shopify store creation and redesign services since 2014, consistently exceeding client expectations.
But their expertise doesn't stop there. Located in Los Angeles, this forward-thinking firm is at the forefront of technology integration. They have the capability to seamlessly integrate AI and machine learning technologies into your portal. Enhancing functions such as text generation, image detection, and content moderation. This empowers your portal to deliver cutting-edge features and stay ahead in the competitive digital landscape.
Sunrise Integration is not just a design agency; they are your strategic partner. Committed to helping you achieve digital excellence and stay at the forefront of innovation. Whether you need a Shopify store, a fully responsive website, or cutting-edge AI integration, Sunrise Integration has the experience and expertise to bring your vision to life.
One of our specialties is seamlessly integrating your website with various Content Management Systems (CMS) platforms. Streamlining your marketing campaigns and optimizing the user experience across your customers' preferred platforms.
---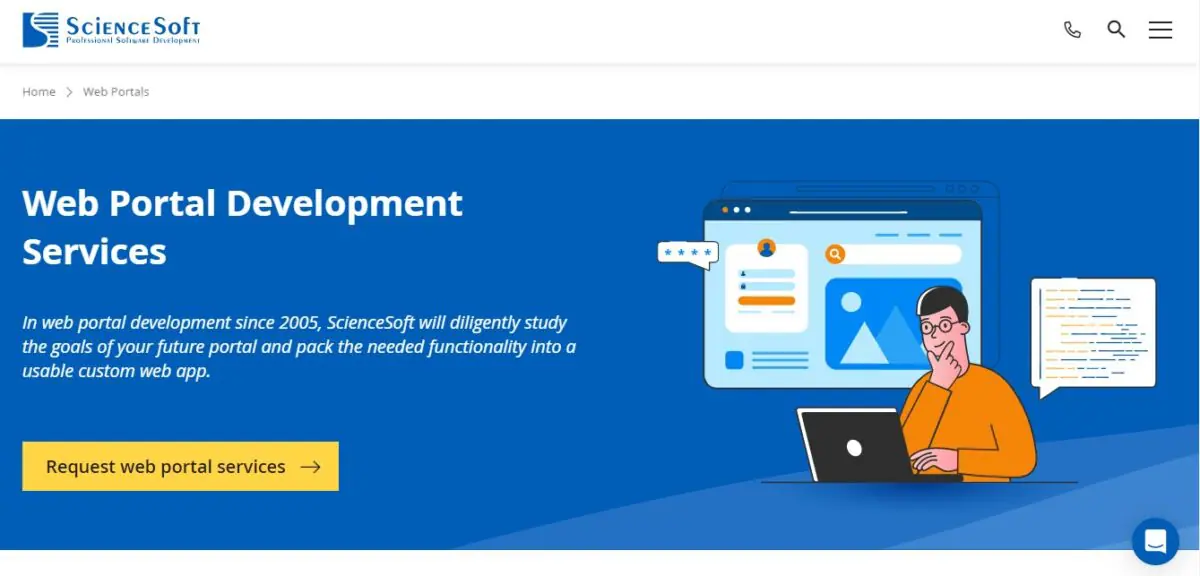 Best for AI and AR-enhanced websites
ScienceSoft offers a comprehensive suite of services that cover the entire development cycle, ensuring that your digital project is a resounding success. Also, with a wide-ranging expertise that includes consulting, website development, mobile app development, seamless integration with third-party systems, and extensive after-launch support. ScienceSoft is your trusted partner in turning your digital vision into reality.
What sets ScienceSoft apart is its ability to deliver cutting-edge, customer-enhancing features that harness the latest technological advancements. Additionally, these innovations include AI-driven chatbots and personalization, voice-controlled navigation, augmented reality (AR)-powered learning programs and user manuals, cryptocurrency payments, and live video consultations. These features are designed to elevate your user experience and drive engagement.
Having been in the industry since 2005, ScienceSoft boasts an impressive portfolio encompassing a diverse range of projects. This includes vendor websites catering to both manufacturers and non-manufacturers, B2B sites, self-service platforms, customer portals, employee sites, patient or telehealth portals, eCommerce and sales websites, eLearning platforms, community portals, and BFSI (banking, financial services, and insurance) websites.
Transparency is at the core of ScienceSoft's workflow. When you partner with this Dallas-based firm, you can expect a clear and efficient process. They take a mere two to eight weeks to create a prototype, allowing you to visualize your project's direction. Meanwhile, they can present the first working version of your portal in just three to four months, ensuring a rapid and efficient development cycle.
In summary, ScienceSoft is more than just a development agency; they are your strategic ally, equipped to bring your digital dreams to life. With a track record of excellence and a commitment to innovation and transparency, ScienceSoft is the partner you can trust for all your digital needs.
---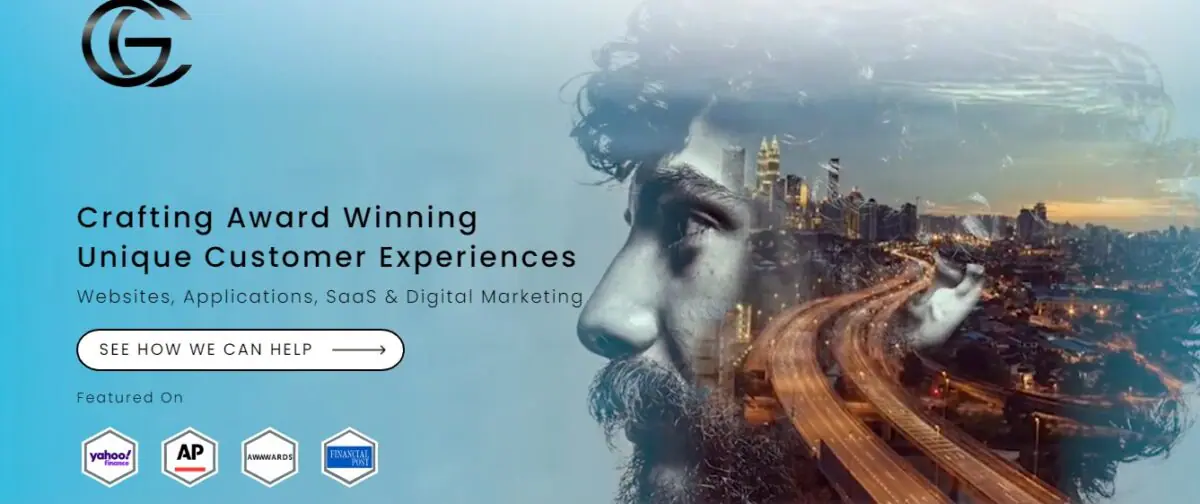 Best for eCommerce and "rescue" service
GrayCyan, another leading web design specialist hailing from Canada, brings a versatile skill set to the table, catering to a wide spectrum of website development needs. In fact, their expertise spans the gamut, from crafting bespoke websites from the ground up to breathing new life into existing ones through comprehensive redesigns.
What truly sets GrayCyan apart is their team's proficiency, including WooCommerce and Shopify experts, which is prominently reflected in their diverse portfolio. Their impressive body of work includes the development of eCommerce websites and peer-to-peer marketplaces, in addition to crafting high-conversion corporate portals seamlessly integrated with email marketing lists.
GrayCyan also recognizes that sometimes things don't go as planned. Since, they offer "rescue" assistance, a lifeline for those who have encountered challenges with previous developers and need a swift site rebuild and ownership transfer.
Based in the vibrant city of Toronto and founded in 2018, GrayCyan may be young, but their track record is nothing short of remarkable. In the same way, they have successfully delivered over 270 projects across a multitude of industries, including real estate, finance, manufacturing, energy, e-learning, healthcare, law, politics, transportation, and more.
Thus, in a constantly evolving digital landscape, GrayCyan stands as a testament to expertise, versatility, and an unwavering commitment to delivering results. Whether you're in need of a custom website, eCommerce solutions, or rapid site recovery, GrayCyan is your trusted partner, ready to transform your digital aspirations into reality.
---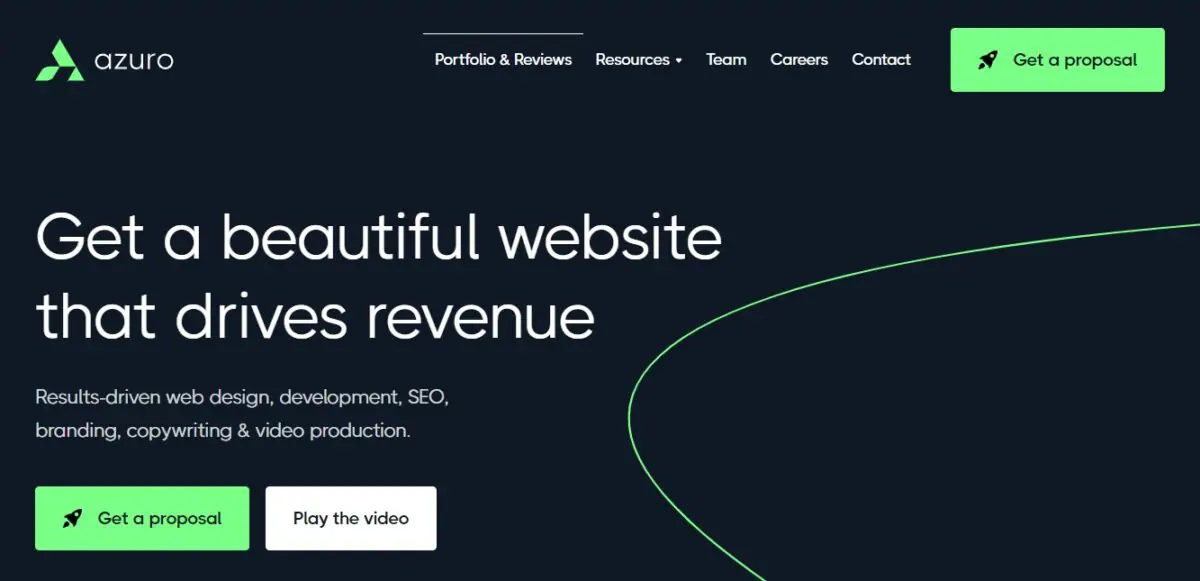 Best for specialized handling by a small team
In the realm of web design and development, Azuro Digital stands out as a true trailblazer. Additionally, in 2022, they clinched a coveted spot on CIO Review's prestigious list of top 10 awardees for the Most Promising Web Design and Development Services Provider. While their main office is nestled in Ottawa, Canada, Azuro's reach extends far beyond borders, serving a diverse international clientele with their exceptional digital expertise.
What truly sets Azuro apart is their commitment to personalized service. Moreover, each client enjoys direct access to their dedicated web designer, a valued member of Azuro's agile and meticulous nine-member team. Additionally, Azuro Digital's commitment to client satisfaction is evident in their offer of unlimited content "revisions." However, their ultimate goal is to minimize revisions by gaining a deep understanding of your vision before embarking on the project.
Azuro Digital embodies the essence of innovation, excellence, and client-centricity in the digital arena. Likewise, with a passion for understanding your unique needs and a dedication to delivering exceptional results, Azuro Digital is the partner you can trust to transform your digital aspirations into a resounding success.
Their user-centric approach shines through in their conversion-driving user experience design. Thus, this meticulous attention to detail ensures that every visitor to your website has an engaging and fruitful experience.
---
Website Design Companies For Small Businesses FAQs
Typically timeframe taken when collaborating with website design companies catering to small businesses?
The timeline for website development is variable and influenced by several key factors. These include the chosen development method (utilizing a website builder, a content management system or CMS, enlisting a design agency, or custom coding), the specific type of website (such as a blog, business/corporate site, or eCommerce platform), the scale of the site (measured by the number of pages), the complexity of the design (including the incorporation of various features), the duration required to gather content, receive feedback, and obtain necessary approvals, as well as the extent of search engine optimization (SEO) implementation.
Key Considerations for Selecting a Web Design Firm
Ensuring a Seamless Match with Your Ideal Design Studio for Your Small Business Website:
Define Your Budget and Timeline: Begin by establishing a budget range rather than a fixed amount. Ensure clarity about what is included in your chosen package. If you anticipate the need for additional services such as photography and videography, inquire about associated costs. Additionally, communicate any strict deadlines for your website's launch, allowing the agency to evaluate feasibility. Such as, seek insights into potential challenges they might encounter in meeting your timeline and the strategies they would employ should delays occur.
Assess Post-Development Support: Anticipate the future need for fresh content and imagery updates on your website. Your company will also require ongoing performance monitoring. It's crucial to ascertain the level of assistance or training provided by your selected agency after the website's launch. Also, knowing what post-development support is available ensures a smoother transition and sustained success for your online presence.
What is the typical cost associated with hiring website design companies for small businesses?
The total expenditure for your project can vary significantly, contingent on several influential factors, including but not limited to:
The nature and purpose of the website you desire.
The quantity of web pages necessitated for development.
The intricacy and sophistication of the design.
The inclusion of specialized features.
The creation of custom images and graphics.
Content development requirements.
Ongoing maintenance and additional considerations.
Also, reputable small business web design firms typically offer services in the price range of $2,000 to $4,000 or potentially more, depending on the project's unique requirements and complexities.
Is Having a Website from Website Design Companies Beneficial for Small Businesses?
Having a website is undeniably beneficial for small businesses in today's digital landscape. It provides a vital online presence that not only enhances credibility but also serves as an information hub for customers seeking product details, pricing, and contact information. Moreover, a well-designed website serves as a versatile marketing tool, showcasing reviews, promotions, and blog posts, while also enabling e-commerce capabilities, expanding your reach from local to global markets. From a cost-effectiveness standpoint, maintaining a website is often more economical than traditional advertising methods. It also offers the advantage of data-driven insights through analytics tools, helping you make informed business decisions. Certainly, a website can provide a competitive edge, ensuring your business remains visible and accessible to a broad customer base.