You've taken a significant step toward modernizing your small business by embracing the digital realm with the launch of your Small Business website with Web Design Services! By doing so, you're aligning yourself with forward-thinking entrepreneurs who recognize the immense value of this powerful tool for online sales and promoting their products and services.
As you embark on this journey of website development, you may find yourself at a crossroads, pondering whether to tackle the project independently or enlist the expertise of professionals. Additionally, you'll need to make a crucial decision: should you collaborate with a freelance web developer or engage the services of a reputable web design agency?
Opting for a web development agency is often the preferred path if you have the financial resources, time, and a dedicated team ready to embrace the project's challenges. This choice provides you with access to a comprehensive range of skills, resources, and expertise to ensure the successful creation and launch of your website.
---
Best 10 Web Design Services For Small Business:
---
Best for a collaborative, fast-forward approach
Elite Web Design Studio, brings over a decade of expertise to the art of crafting high-converting websites. Their winning formula blends cutting-edge design with a deep understanding of user personas, all underpinned by advanced SEO technologies.
At the core of their design philosophy is tools that promotes transparency and collaboration throughout the wireframing design process. Additionally, this ensures that every element of the website aligns seamlessly with the user's journey and goals.
Elite Web Design Studio also embraces method for website development, an approach that lives up to its name by accelerating project timelines. In just one week, they create a polished product, rapidly testing prototypes to pinpoint what works and what doesn't. The iterative process continues as they refine the prototype, conduct further testing, and only launch the site when it achieves the dual goals of remarkable functionality and captivating design. This commitment to excellence ensures that every website they create is optimized for both user experience and business success.
---
Best for cost-effective, self-managing websites
Presence Crown, specializes in crafting websites powered by a robust CMS. This strategic choice not only expedites deployment but also ensures the flexibility required for your website to seamlessly evolve as your company grows.
Their comprehensive web development services encompass a wide spectrum:
Wireframe and Prototyping: Ensuring meticulous planning and user-centric design.
Digital Identity: Crafting a unique brand identity, including logo and messaging.
Conversion-Driving User Experience Design: Focusing on creating an experience that boosts conversions.
Rapid Development: Efficient and timely development of your web project.
Easy-to-Install CMS: Streamlining content management for your team.
SEO: Optimizing your website to rank effectively in search engines.
Measurement with Evaluation: Offering Google Analytics integration in Silver and Gold plans to track and enhance website performance.
Secure Virtual Web Hosting: Ensuring the safety and reliability of your online presence.
Support and Maintenance: Comprehensive support services, including free CMS training.
Additional Maintenance Support Packages: Tailored for those who frequently add or edit web content, covering tasks like image optimization and link checks.
With over years of experience, Presence Crown provides a holistic approach to web development, ensuring that your website not only meets your immediate needs but is also equipped to adapt to the ever-changing digital landscape as your business continues to thrive.
---
Best for SEO focus and responsive design
Design Website 4 U is a dynamic web development agency renowned for producing customized websites that blend the twin virtues of SEO-friendliness and responsive design. Also, their commitment to ensuring your website adapts seamlessly to the screen size of each user's device underscores their dedication to an optimal user experience.
Likewise, at the heart of Design Website 4 U excellence is a web development team composed of regularly re-certified specialists. Their meticulous design process follows a structured six-step journey:
Discovery: This phase delves deep into your design preferences and requirements, laying the foundation for a tailored web design strategy.
Brainstorming: Building upon the insights gained during discovery, the team engages in creative brainstorming to conceptualize a web design that perfectly aligns with your vision.
Design: Page template mockups are meticulously crafted and presented for your consideration, ensuring that the design resonates with your objectives.
Development: Once the mockup art files receive your approval, they seamlessly transition into the development phase, where website files come to life.
Quality Assurance: Rigorous internal quality assurance reviews guarantee that the final product meets the highest standards of excellence before it's presented for your review.
Launch and Training: Finally, the website takes flight, and HigherVisibility ensures your team is well-versed in its functionality.
For most content-driven websites, HigherVisibility leverages the power of the WordPress Content Management System (CMS), renowned for its user-friendly interface and versatility.
---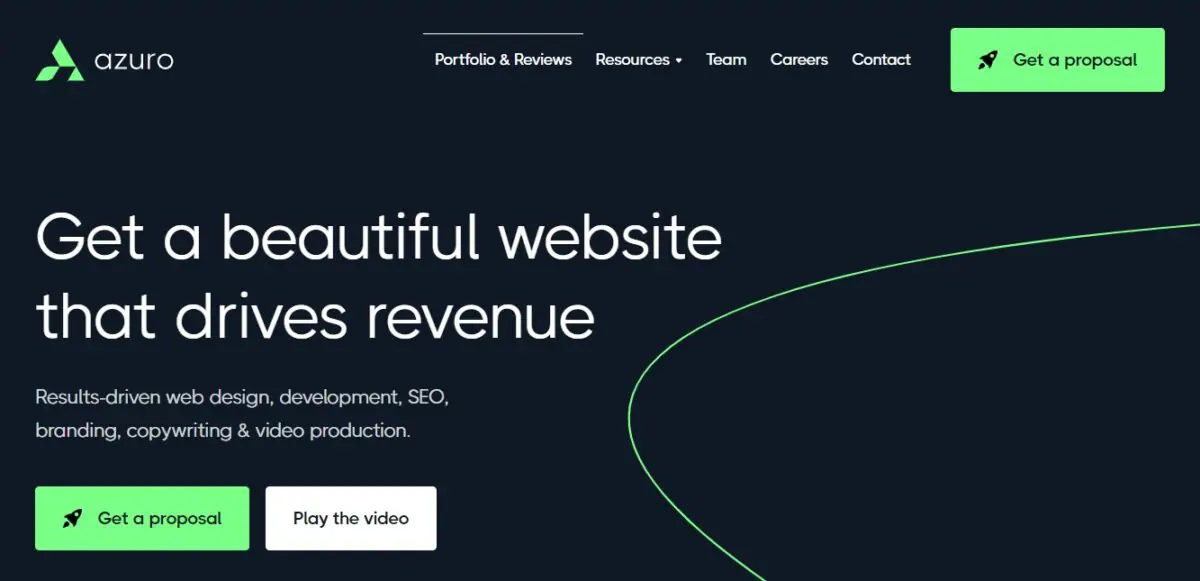 Best for specialized handling by a small team
In 2022, Azuro Digital earned a prestigious accolade as one of CIO Review's top 10 awardees, securing its position as a Most Promising Web Design and Development Services Provider. Hailing from Ottawa, Canada, Azuro Digital operates with a remote team that extends its exceptional services to a diverse international clientele.
Azuro Digital's comprehensive suite of services encompasses every facet of web design and development:
Custom Design: From logo creation to comprehensive branding, their expert team crafts bespoke designs tailored to your unique identity.
WordPress Development and Maintenance: Leveraging the power of WordPress, Azuro Digital not only builds your website but also ensures its ongoing maintenance.
SEO: Azuro Digital optimizes your online presence to enhance visibility on search engines.
Conversion Rate Optimization: By tracking visitor activity, they boost conversion rates, turning visitors into customers.
---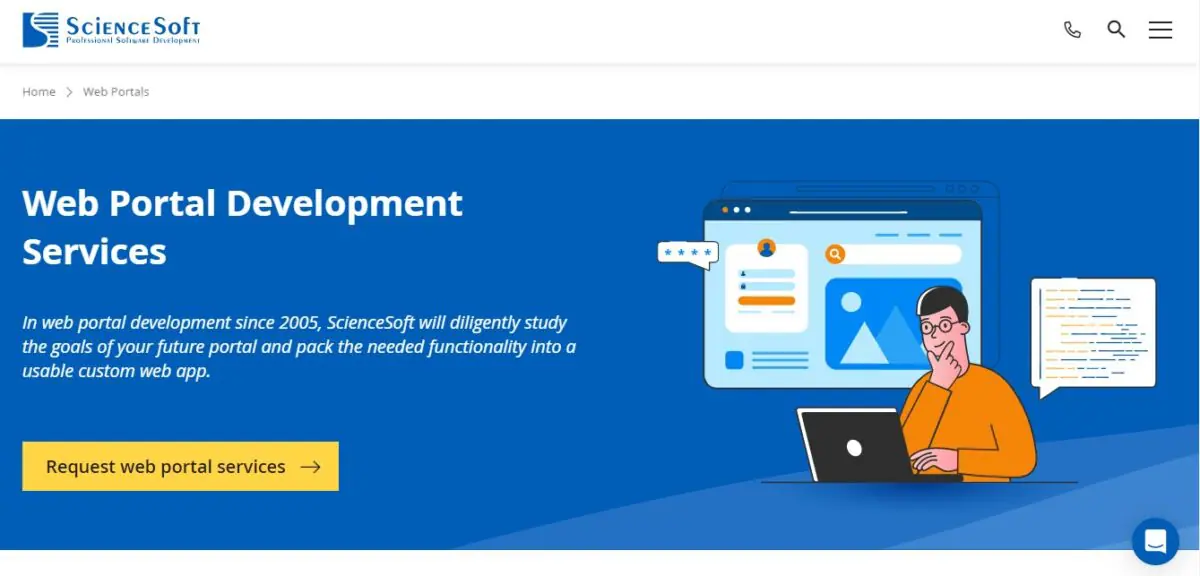 Best for AI and AR-enhanced websites
ScienceSoft, headquartered in Dallas, Texas, is a full-cycle development powerhouse that offers a comprehensive array of services to empower your digital presence. With a legacy dating back to 2005, their extensive expertise covers the following domains:
Website Development: Crafting exceptional websites is at the core of their offerings, tailoring solutions for various niches, including vendor websites (for manufacturers and non-manufacturers), B2B sites, self-service portals, customer portals, employee platforms.
After-Launch Support: Their commitment doesn't end with the launch. As a result, they provide comprehensive support, including user training and continuous website management.
---
Best for quick, industry-compliant output
Visualwebz, a prominent Seattle-based agency with a rich history dating back to 2008, brings a promise of speed and simplicity to web design. Thus, their offering includes the swift delivery of a "simple" five-page website, complete with up to 10 external links and email setup, all within an impressive 48-hour timeframe. So, this approach caters to businesses in need of a quick and efficient online presence.
While their rapid service is ideal for those seeking immediate results, Visualwebz also advocates for a more comprehensive, long-term solution. Since, they recommend an encompassing strategy that includes content writing, ad campaigns, and analytic reporting, ensuring sustained growth and success in the digital landscape.
Key highlights of Visualwebz's services and practices include:
WordPress Expertise: They specialize in building websites primarily on the WordPress platform, known for its versatility and user-friendliness.
---
Best for personalization
DotLogics, headquartered in the heart of New York, has honed a powerful formula for elevating customer confidence in your brand. Specifically, they achieve this by crafting customer-centric content and action-provoking design, all meticulously aligned with your growth objectives.
Creative Advisory: DotLogics provides strategic guidance to ensure your digital presence resonates with your audience and drives results.
Style Guide Development: They create comprehensive style guides that serve as the blueprint for a consistent and compelling brand identity.
Wireframes and Mockups: A crucial step in the design process, wireframes and mockups bring your vision to life and ensure that every element aligns seamlessly.
Content Strategy: Crafting a compelling content strategy is essential for engaging your audience and conveying your brand's message effectively.
With their meticulous approach and a commitment to understanding your business inside and out, DotLogics stands as a trusted partner for businesses seeking to not only establish a digital presence but also excel and outshine competitors in the digital landscape.
---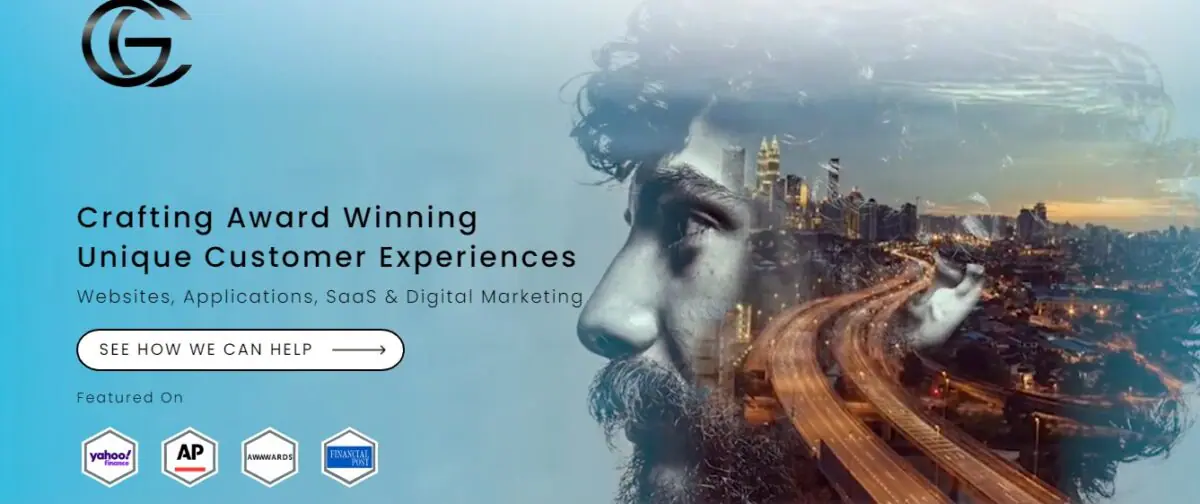 Best for eCommerce and "rescue" service
GrayCyan, a thriving web design specialist hailing from Toronto, Canada, brings a wealth of expertise to address diverse website development needs. Such as, their agile team is well-versed in customizing websites from the ground up and rejuvenating existing ones through comprehensive redesigns.
eCommerce Mastery: With WooCommerce and Shopify experts on board, GrayCyan has a strong foothold in eCommerce. Certainly, their portfolio showcases a diverse range of eCommerce sites and peer-to-peer marketplaces, alongside high-conversion corporate portals seamlessly integrated with email lists.
"Rescue" Assistance: GrayCyan understands that sometimes things don't go as planned. Thus, they offer "rescue" assistance, providing swift solutions to rebuild your website and transfer ownership, ensuring minimal disruptions.
---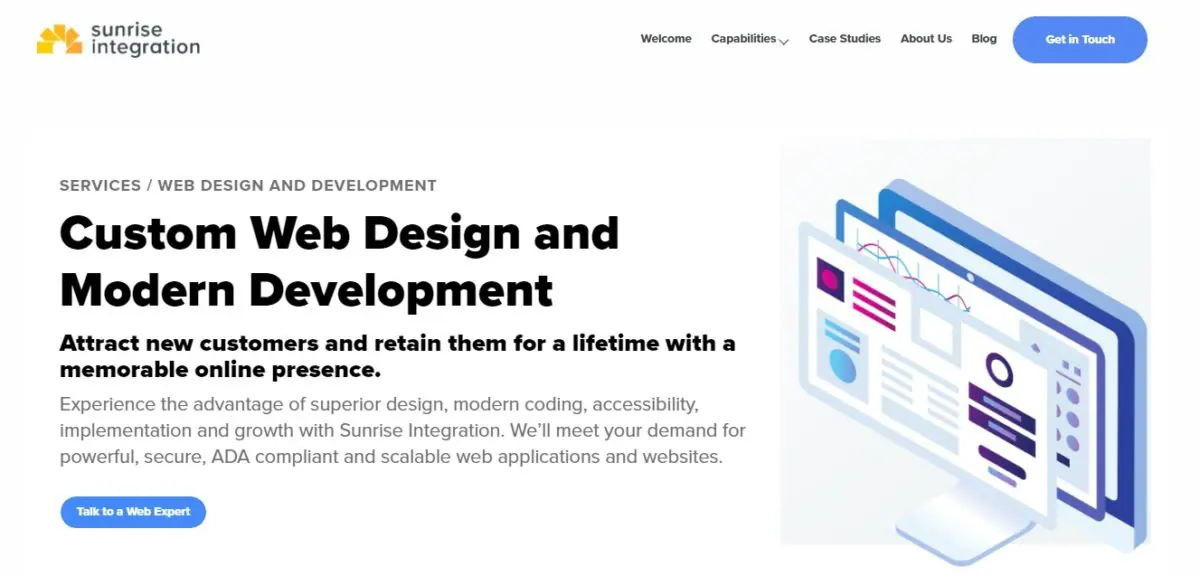 Best for Shopify store owners
Sunrise Integration, based in the vibrant city of Los Angeles, boasts a team of brand and UI/UX designers with an impressive collective experience spanning over 23 years. Hence, their expertise shines through in the creation of web portals tailored for a diverse range of industries, including B2B and D2C eCommerce firms in consumer packaged goods, fashion, lifestyle, software, entertainment, and beyond.
Strategic Ideation: Sunrise Integration engages in strategic brainstorming to shape your digital vision, aligning it with your business objectives.
UX Design and Mockups: Their meticulous approach includes crafting intuitive user experiences and presenting detailed mockups to visualize the final product.
Graphic Design: They excel in graphic design, creating visually appealing elements that resonate with your audience.
Mobile-Centric and Fully Responsive Layout: Ensuring that your portal is optimized for mobile users, offering a seamless experience across all devices.
User Testing: Rigorous user testing ensures that the final product meets user expectations and functionality requirements.
Conversion Optimization: A focus on optimizing your portal for maximum conversion rates, transforming visitors into loyal customers.
---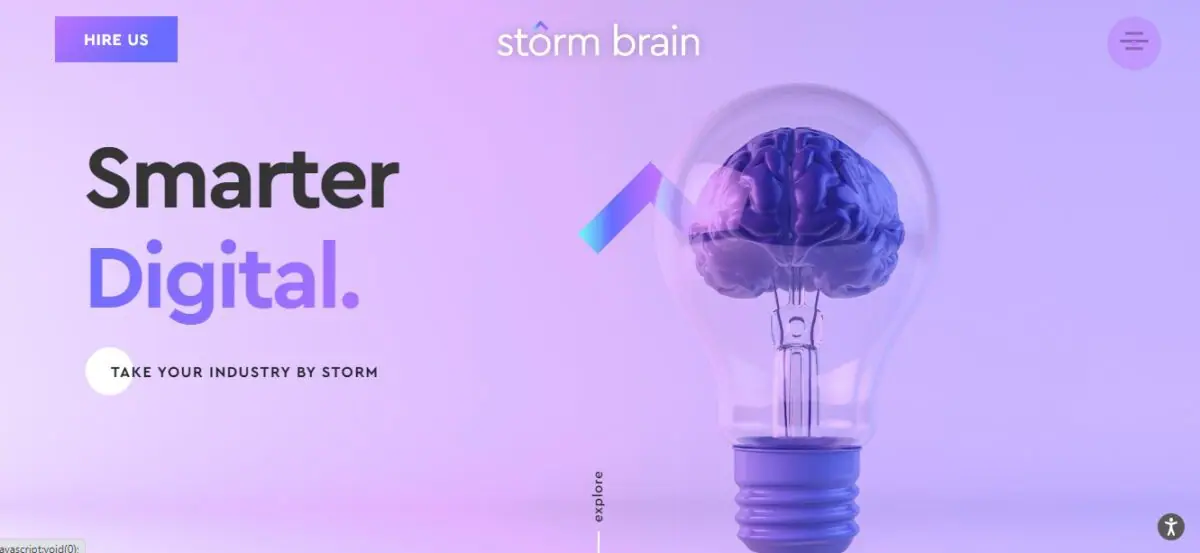 Best for online merchants with accessibility (ADA) needs
Storm Brain, the San Diego-based internet marketing company, empowers its clients to make a profound impact in their industries, living up to its promise of helping them "take their industries by storm." Hence, their approach is founded on comprehensive market research and competitor analysis, which serves as the bedrock for innovative ideation. For this reason, insights gleaned from this initial step inform the creation of a design that harmonizes with your vision, resulting in an engaging, SEO-friendly, and captivating website that truly connects with customers.
Key facets of Storm Brain's web development service suite encompass:
Mobile Responsive Design: Ensuring your website shines across all devices with responsive design.
eCommerce Web Design: Crafting eCommerce experiences that drive growth and conversions.
User Experience Design: Focusing on creating intuitive and enjoyable user experiences.
Managed Website Hosting: Reliable hosting services that guarantee your website's performance and security.
Maintenance: Ongoing support and maintenance to keep your online presence in peak condition.
Storm Brain's expertise extends beyond web development to seamlessly connect your site with various CMS platforms. Likewise, this strategic move streamlines your campaigns and optimizes user experiences on your customers' preferred platforms.
---
Small Business Should Self-develop or Collaborate with Web Design Services or Freelancer for My Website
When it comes to establishing a business website, the decision to build it yourself or enlist the services of an agency or freelancer is a crucial one. Considering that approximately 27% of startups have yet to launch their websites, the significance of this choice cannot be understated, especially in a digital landscape where around 252,000 new websites emerge daily. Your website's success hinges on its ability to stand out and engage visitors effectively.
In contrast, the quality of your website plays a pivotal role in building trust with your audience, with roughly three-quarters of consumers associating website quality with the trustworthiness of a company. On the other hand, this underscores the importance of thoughtful planning and execution in website development. Thus, here are some key considerations to help you determine the best approach for your specific needs:
Use a website builder or CMS if:
You possess design experience and prefer direct involvement in the design process.
Speed is of the essence, and you aim for a quick website launch.
You're working with a limited budget and seek a cost-effective solution.
Hire a web design company if:
You have a substantial budget allocated for the project.
Your business is experiencing rapid growth and increased online presence.
You can afford to wait a few weeks or even months for the final product.
You have a well-defined brand strategy but prefer to entrust the creation of a unique design and an optimized user experience to professionals.
---
What's the Typical Timeframe for Website Development?
The timeline for website development varies significantly, influenced by a range of factors. These factors encompass the chosen method of site construction (utilizing a website builder, a content management system or CMS, engaging a design agency, or custom coding), the specific website type (be it a blog, a corporate/business site, or an eCommerce platform), the scale of the site (measured by the number of pages), the complexity of its design (including the integration of various features), the duration required to gather content, obtain feedback, and secure approvals, as well as the extent of search engine optimization (SEO) efforts.
As a result of these variables, the duration for website development can span from a swift six-hour endeavor when employing a website builder equipped with pre-designed templates, to an extensive six-month journey when dealing with more intricate requirements and custom-built solutions.
---
Small Business Key Considerations for Selecting a Web Design Services
Before you make the crucial decision of selecting a design studio for your small business website, it's essential to follow these steps to ensure you're making the right choice:
1. Define Your Requirements:
Start by listing your "must-haves" and non-negotiable features. Knowing your priorities prevents overlooking critical aspects of your website. Create a list of non-negotiables, such as responsive design, specific functionalities like registration and online payment systems, and integration with your current office systems, particularly your Content Management System (CMS). Additionally, consider including items like SEO, fast loading times, mobile-friendliness, and campaign tracking features for a robust online presence. Make a separate list of "nice-to-have" qualities, such as secure hosting, content creation, and logo design.
2. Determine Your Budget and Timeline:
Establish a budget range rather than a single figure, and ensure you understand what's included in your chosen package. Thus, if you anticipate requiring additional services, like photography or videography, inquire about the associated costs. Be transparent with the agency about any strict deadlines for your website launch so they can evaluate feasibility and outline their plan in case of delays.
These steps will help you make an informed decision when selecting the right design studio to create your small business website.
FAQ about Web Design Services For Small Business:
Essential Elements for a Small Business Website from Web Design Services?
Homepage: The digital storefront of your business, where visitors get their first impression and access essential information.
About Page: Share your company's story, mission, values, and team members to establish trust and credibility.
Services/Products Page: Showcase your offerings, pricing, and benefits, helping potential customers understand what you provide.
Contact Page: Make it easy for visitors to reach you with contact forms, phone numbers, and addresses.
Thus, these pages can create a well-rounded and informative website that caters to your audience's needs and interests.
What Sets the Top Web Design Services for Small Business Apart?
By comparison, their counterparts in the web design industry, the premier website design companies catering to small businesses excel in a range of services, including prototyping, development, design, redesign, and website enhancement.
However, what truly distinguishes these agencies is their unwavering commitment, extensive experience, and specialized expertise in assisting small businesses, spanning from startups to SMEs, in bolstering their online presence and fostering brand growth.
Similarly, these small business website design firms craft top-tier, fully functional websites and web applications that boast interactivity, compatibility, and user-friendly navigation. Additionally, they craft visually captivating digital assets that empower small enterprises to compete effectively with established brands, harnessing the advantages that a professional website offers.
Moreover, these design professionals often present more accessible and flexible pricing models, ensuring their services remain within reach for businesses operating with limited budgets.
What Are the Responsibilities for Small Business from Web Design Services?
The top small business website design companies excel in customizing their services to align with their clients' specific requirements and objectives, a practice that enhances overall efficiency.
In the same way, these professionals are a fusion of design virtuosos and computer programming experts who seamlessly blend technical proficiency with creative ingenuity, resulting in the creation of high-quality and visually captivating websites.
Their multifaceted responsibilities encompass:
Crafting website and web application designs.
Constructing layouts and site structures.
Designing graphics, images, color schemes, and text styles.
Developing and curating content.
Rigorously testing for functionality and performance.
Continuously maintaining and updating websites.
And more, depending on individual project needs.
Furthermore, the best website design companies for small businesses leverage premium tools and stay abreast of the latest design technologies, empowering their clients to compete effectively with larger counterparts in their industry while facilitating business growth.
What Are the Typical Rates for Top Web Design Services For Small Business?
The cost of your project is subject to various factors, which may include:
The type of website you require.
The number of pages to be developed.
The complexity of the design.
The inclusion of specific features.
The creation of custom images and graphics.
Content development.
Ongoing maintenance, among other considerations.
By comparison, top small business web design companies typically charge in the range of $2,000 to $4,000 or potentially higher, depending on the specific needs and complexities of the project.
Why Choose a Small Business Web Design Services?
Reach Your Local Audience
In fact, 90% of consumers turn to the internet to discover local businesses and their offerings. Nevertheless, if your business lacks an online presence or a well-optimized website, you're missing out on potential customers. Although, leading small business website design companies excel in crafting websites that achieve higher rankings on search engines. Whereas, they possess in-depth knowledge of technical, on-page, and off-page SEO best practices, enabling your brand and products to become easily accessible. Hence, by harnessing their expertise, you can effectively reach your local audience, enhance website traffic, and drive increased conversions.
Increase Credibility
A staggering 82% of consumers read online reviews when evaluating local businesses. Customer reviews significantly influence purchase decisions, especially in a market with numerous choices. For example, a professional website featuring customer testimonials and reviews can substantially boost your credibility. Such as, small business web designers understand review policies and can seamlessly incorporate them into your website, enhancing your online reputation management.
Boost Your Profit
In fact, according to Deloitte research, small businesses that actively engage with digital tools experience four times higher revenues. Similarly, your digital presence begins with your website, making it your most valuable marketing asset in today's digital landscape. Since, with an increasing number of consumers shifting to online shopping, it's essential to expand beyond your physical store. Their premium services will deliver an eye-catching and functional website that not only elevates your brand's credibility but also provides users with a secure platform for making purchases." To sum up, investing in web design for your small business can yield significant benefits, from expanding your reach to enhancing credibility and ultimately driving profitability in the digital era.
How to Select Small Business Web Designers?
Key Considerations Before Hiring Small Business Web Designers:
Before embarking on your search for the ideal web designers for your small business, it's crucial to establish a clear understanding of two pivotal aspects:
1. Your Business Goals:
Define your specific business objectives and the outcomes you aim to achieve through your website. This clarity will serve as your compass during the selection process.
2. Your Requirements:
Determine the type of website and the specific features you require from your design partner. Thus, this precision will provide a focused direction for your search, ensuring you identify a company capable of meeting your expectations.
Now, as you narrow down your list of potential candidates, consider these essential factors:
– Relevant Niche Expertise:
Investigate whether the candidates possess experience in projects similar to your own. Agencies with a deep understanding of your target market can expedite project delivery and drive more impactful results.
– Long-Term Partnership:
If you envision a sustained partnership, reflect on the company culture. Aligning with an agency that shares your brand's values is crucial for seamless collaboration. Enabling both entities to function as a unified team.
– Cost of Services:
Explore the pricing structures offered by the top web design companies for small businesses. Request price estimates to identify a partner that aligns with your budgetary constraints."
These considerations will lay a solid foundation for your search and empower you to select small business web designers who can best fulfill your unique requirements and goals.